Tenerife Tickets and Excursions
We also have available a selection of day trips and excursions to help you see the sights and attractions of Tenerife. These trips are operated by an experienced local tour company and include Tenerife excursions to:
Siam Park
Siam Park is so good we've devoted a whole page to it! Video and info on Siam Park, Tenerife's water kingdom.
Loro Parque - INC transport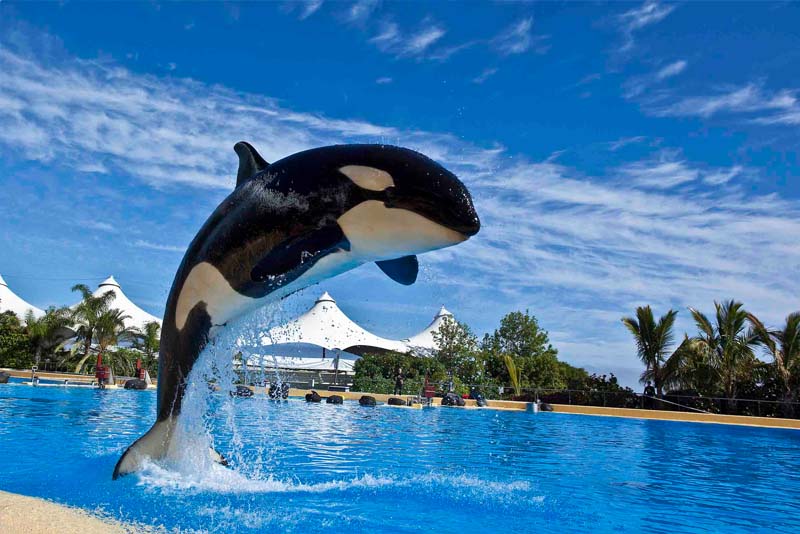 Puerto de La Cruz, a touristic town of international repute, is home of the famous "Loro Porque", a world of exotic vegetation in which a wide variety of species live in harmony and in turn offer lots of attractions for all ages: The dolphin show, sea-lion show and the lorgest collectian of parrots in the world amongst others. The marine species ore also present in an impressive aquarium. The park also has plenty of service areas with restaurants, snack-bars and even a picnic-area.
Duration: 8 hours approx.
Price: 47 € /adult, 28 € /child
Siam Park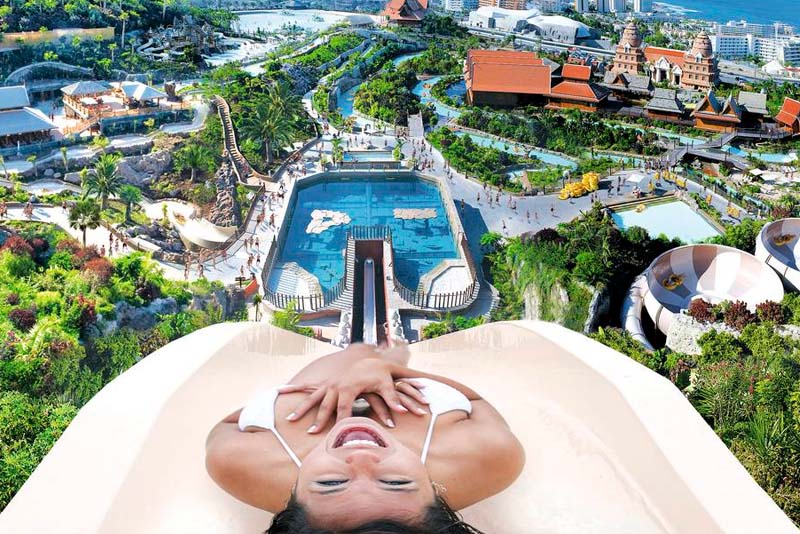 Siam Park is so much more than a water park. With the Tower of Power, The Dragon, and the Mekong Rapids to set your pulse racing, Siam Park is an exciting adventureland set in its very own tropical paradise. These are just a few of the water rides which have made the Park so popular since its opening in 2008.

Free bus included in price. Under 2's are free.
Duration: 8 hours approx.
Price: 34 € /adult, 23 € /child
Teide - Icod - Garachico - Masca
We make our way up to Mount Teide by Guia de Isora. Once in the National Park of Teide you will have the possibility to take pictures on the several stops that we´ll make along the Park. We´ll continue through the ever-green Valley of La Orotava to get to Icod, which counts with the "Drago" tree, standart for the Canarian flora, and its famous wines. Our journey will take us to the North coast of the island to go to Garachico, which was destroyed by the volcanic eruption of 1706. In this area we will have time for lunch (not included in the price). Masca will be our last stop, old village occupied by pirates, in past times, because of the excellent view they had of La Gomera, having a firm control of the naval trafic between both islands.
Duration: 8 hours approx.
Price: 35 € /adult, 17.50 € /child
Teide & Puerto Cruz & Loro Parque
We´ll start climbing towards the National Park of Las Cañadas del Teide, famous for its lunar landscape. On our way down to the coast, you can admire the impressive sights offered by the Orotava Valley. Once in Puerto de la Cruz you have a chance to visit the famous Loro Parque. If you wish you can visit the town centre with its pedestrian walk-ways and cosmopolitan air. Places of interest are the Botanical Gardens, Lago Martiánez, Plaza del Charco and the beach of Playa Jardín. Entrance to Loro Parque Included
Duration: 8 hours approx.
Price: 54 € /adult, 30 € /child
Island Tour
In the region of Teno, found in the Northwest of the island, having already passed by Playa de la Arena and Puerto Santiago, we will be pleasantly surprised by the majestic cliffs of Los Gigantes, of which we will have a wonderful view-point from where take photographs. As we continue our tour through this region we come across a splendid view of the town of Garachico. The next town we visit is Icod de los Vinos with it´s legendary "Drago" tree, within this town´s historical centre we can give special mention to the Church of San Marcos. There is also time to sample the local wines and liquors in one of the many "bodegas". When we arrive to the Orotava Valley area, our guide will recommend a restaurant where you can have a typical cananrian lunch (not included in the price). La Orotava, has the oldest heritage in Tenerife with such places of interest as the Church of La Concepción, Casa de Los Balcones and the town council square. To end our cultural tour of the island we will make a last stop at Candelaria, where next to the beach is found the Basilica and the bronze statues of the "Guanche" kings.
Duration: 8 hours approx.
Price: 28 € /adult, 14 € /child
Santa Cruz 1/2 Day
Santa Cruz town founded in 1492, did not become the capital of Tenerife until XIX century, until then, the town was just the harbour of La Laguna. The main shops are found along "Castillo Street", a pedestrian walk-way which used to be the royal pass-way that connected the harbour with La Laguna. Parallel to this walk-way there are other shopping areas, such as "Imeldo Serís", as you go up on the left, and to the right, "Villalba Hervás" and "Bethencourt Afonso", better known as "San José"; an area highly recommended for shopping.
Duration: 6 hours approx.
Price: 21 € /adult, 10.50 € /child
Teide & National Park
The National Park of Las Cañadas is one of the most extraordinary and beautiful sights one admire. Phisically the park is an enormous crater surrounded by vertical rocks with an area size of 130 s.q. Km, one whose centre rises the mount Teide ( 3717 m ). The great variety of volcanic rocks to be found as well as endemic floral and fauna are part of the unique world of colours and shapes. Cable car not included in the price.
Duration: 6 hours approx.
Price: 25 € /adult, 12.50 € /child
La Gomera
On board the ferry we arrive to La Gomera, where Cristopher Columbus made his last stop before sailing to discover the New World. We head through the Valley of Hermigua, setting our sights on the ¨Garajonay National Park¨ and the forest of "El Cedro", with its unique vegetation declared heritage of manking by UNESCO. In ¨Las Rosas¨, we will have a tipycal home cooked gomeran meal and a demonstration of the peculiar gomeran whistle language. We begin our return passing through the towns of Chipude and El Cercado. On our way back we will come across the impressive Rock Agando before discovering the history and culture of San Sebastian, with monuments such as the Church of "Asunción", the "San Sebastian" chapel and the Tower of "El Conde"
Duration: 9 hours approx.
Price: 64 € /adult, 32 € /child
Castillo San Miguel - INC MEAL
The night takes place in the authentic castle San Miguel. You will cross the draw bridge to be met by the Count and Countness and you take your seat in the grand indoor arena. The show begins with the medieval knights showing their prowess, while you enjoy your meal in a true medieval style... with plenty of wine.
Duration: 4 hours approx.
Price: 55.00 € /adult, 27.50 € /child
Teide by Night
We will drive through the village of San Miguel, making our first stop in "La Centinela", where you can take pictures of the stunning views of Arona and the south west coast of the island. We will offer you dinner in" Meson Las Rejas" which consists of four courses: ham salad, leek soup, chicken breast and cheesecake for dessert. Wine and water are also included. After dinner we venture into the vast crater and lunar landscape of "Las Cañadas", where we enjoy the breathtaking views while watching the sunset over the Atlantic Ocean, views of La Gomera and La Palma. At the end of the evening, the most interesting part of the excursion is the stop at the famous Rocks of Garcia at an altitude of 2.000 meters above sea level, where we meet our very knowledgeable astrologer and gaze up into the sky and map out the actual stars that can be seen that evening. An unforgettable experience! Journey back through Chío and Guía de Isora, until we reach Playa de Las Américas. Dinner Included
Duration: 5 hours approx.
Price: 55 € /adult, 27.50 € /child
Aqua Land
Water babies and sun seekers can head to the water adventure park Aqualand, which is located in the Costa Adeje area, close to Playa de las Américas. It promises a great day out for all the family, especially children who will love the selection of slides, tunnels, play areas and swimming pools.

The park also puts on a fantastic dolphin show that is included in the ticket price. These magnificent and intelligent creatures perform tricks that will make you and your whole family smile.
Duration: 8 hours approx.
Price: 22.50 € /adult, 16.00 € /child
TWIN TICKET - Siam Park & Loro Parque
Save by booking both of these spectacular parks with a Twin Ticket! Transport included to both parks.
Duration: 8 hours approx.
Price: 69 € /adult, 49.50 € /child
These are just a small selection of the tours and Tenerife excursions we have available. For further information please ask for a leaflet on arrival.